Lori said she'd be the one in the red hat: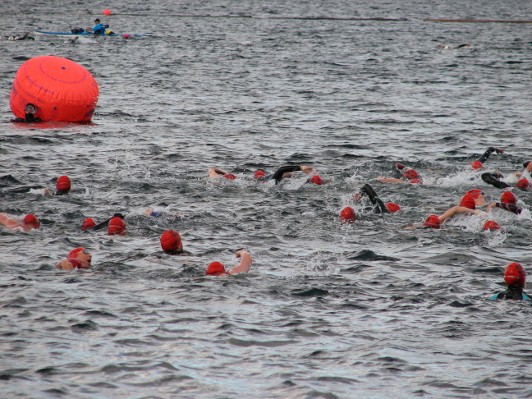 I think I see her.
If you are in Kelowna, you can take the Extreme Self Care for Women course at the Kelowna campus of Okanagan College.
Six weeks to create the lifestyle of your dreams! Extreme Self Care is connecting with yourself on a DAILY basis, deciding what you need and then following through to make it happen. It is a powerful course that will help you discover a three stage inspired action plan, uncover challenges that could be slowing you down, develop clear goals and vision as well as a great sense of personal awareness.
Get inspired, eliminate stress and create a spiritual well being.
Sign up now? Here is how:
Browse to www.okanagan.bc.ca/csreg
In the Term field select Winter 2009
In the Keyword field type Extreme Self Care
Click Search
Click on the Register link on the right side of the screen and then check out
Enjoy!
Full disclosure: I am sleeping with the instructor.
Not that long ago I moved from Calgary to Kelowna, and Lori and I are now living in a brand new condo. While I really like this place, one thing is starting to drive me nuts:
There is a smoke/fire alarm in the kitchen. And not just any detector, it's a super sensitive one! Note to the developer who made the decision to place it here: Don't.
See, catching kitchen fires early is a good idea in theory, but in the real world, I'm sure my neighbours are tired of hearing about it every time I make toast, or in a spectacular example of stupidity in design, it went off earlier today when I was melted butter in the microwave, and the butter wasn't even melted yet.